There's a Colorado band called Gasoline Lollipops. When I was volunteering at a public music station a few years ago, I was introduced to their style of country/rock.
They're led by a guy named Clay Rose who's a pretty intense musician. He's one of those singers who amazes me because he has this incredible, inner emotion that drives his artistry — that's obvious the first time you hear the gravely, grungy style of his vocals. When you hear him sing, either live or on a recording, you know he spends time and effort preserving his voice when he's not singing. Otherwise, he wouldn't have a voice anymore. He did a live performance at another station I volunteered for and was interviewed by one of the station's better hosts (a PhD/professor at Colorado State University who loves blues and loves public radio). Clay didn't pull any punches and discussed his emotional ups and downs that defined (and saved) his life — the intensity of his music made more sense after I heard that interview.
I also had the pleasure of introducing GasPops (the shortened name they've come to be known by) at a Fort Collins music festival a few years ago. That was the first time I'd heard them live. The venue was packed to the gills and the band built that energy into an incredible driving set of music the likes of which I had not heard in a long time. A couple of years ago, I heard them again in a more intimate setting. Intimate or not, Clay Rose just belted his inner emotion out in another incredible set. This is where I first heard them cover Nina Simone's Sinnerman. I haven't heard that song covered that often, which isn't surprising. It's a hugely complex song that only a certain type of singer could do justice. Clay Rose nailed it.
The next day, I messaged Gasoline Lollipops Facebook page, asking if they were planning on recording Sinnerman. The reply was that "we're thinking about that." I happened to catch another live performance a year or so later and they did Sinnerman again… I caught up with Clay after the performance and mentioned that they really needed to record the song. About a month ago, their Facebook page announced the upcoming album All The Misery Money Can Buy, including their version of Sinnerman. I Facebook messaged them again asking how I could get a copy of the song… The Other Side had just launched and that song had to be front and center. Clay messaged a SoundCloud link back within about a minute. About 10 minutes later, Sinnerman was rotating on The Other Side. Clay also asked for my mailing address.
It's 2020. Vinyl is in a resurgence. Recently, I heard a statistic indicating that, in a period of Deja Vu, vinyl had outsold CD in the retail marketplace. Regardless, streaming and digital far outweigh any physical media now. Radio stations' primary source of music is the digital download. E-mails come in every day or two from promoters and record companies with new releases and "songs you've got to add." There are promotion campaigns in trade publications and websites. There are PR Newswire releases. So imagine our fascination when this showed up in the mailbox.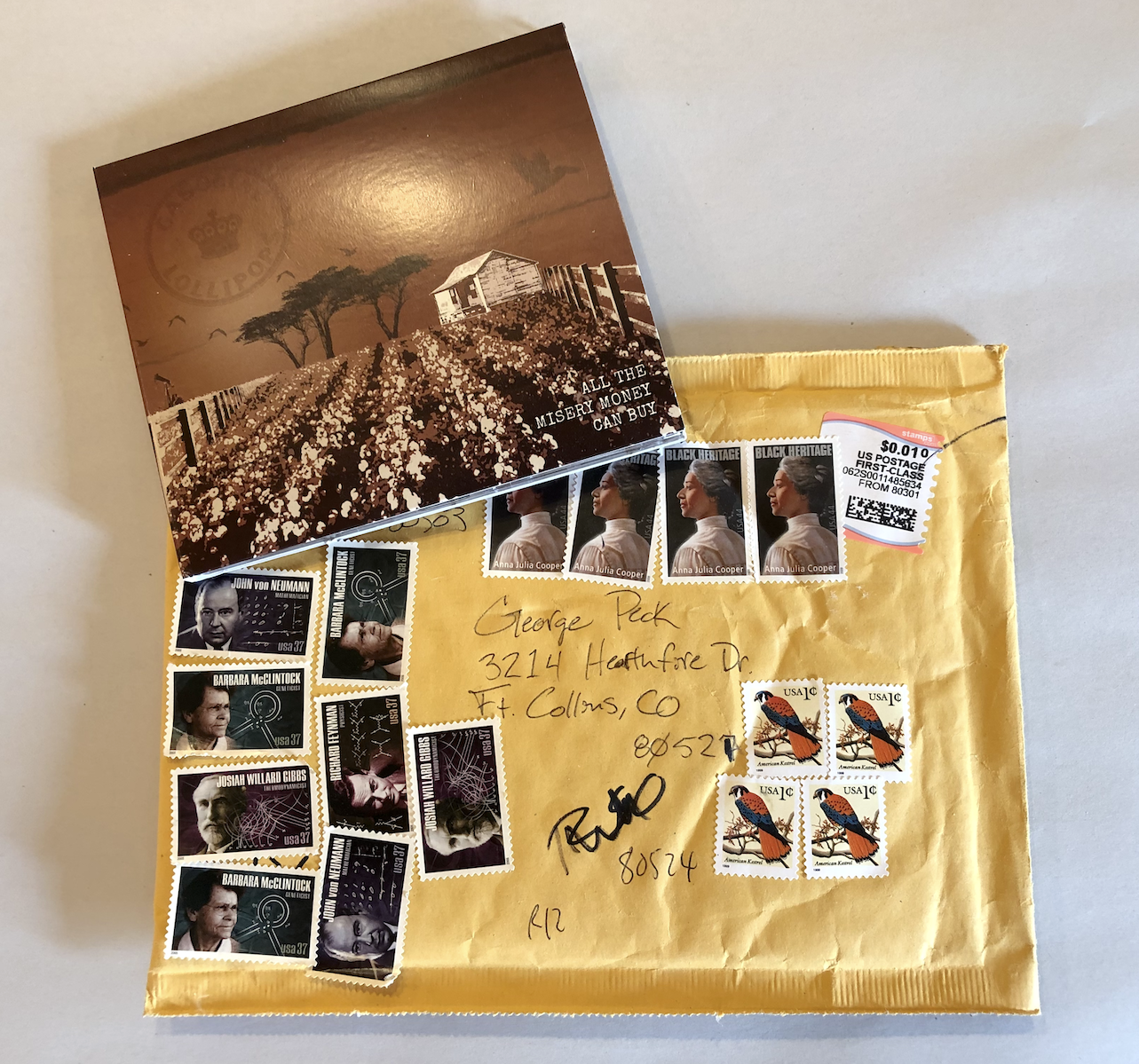 This epitomizes independent music if anything ever did. The band's lead singer put this CD in an envelope, hand wrote an address, and plastered stamps all over it. No PR campaign. No slick mailer. No download link.
Then, they did something else. They booked Red Rocks. You don't have to be from Colorado to understand what a big deal that is. In a pandemic that will close the venue "until further notice" at the end of September. At a venue that only has one other musical artist booked before closing — some guy named Nathaniel Rateliff. Their first show starts in about 7 hours, as of this writing. I wish I could be there — this will be a very strange "intimate" show with a max audience of 175 in a venue that seats a little over 9,500. And, I guarantee that Clay Rose will put more emotion into Sinnerman that can conceivably come from one person.
You'll hear more tracks from All The Misery Money Can Buy on the Other Side in the coming weeks. Not because Clay Rose sent me a CD in about the most personal way possible. Not because they're from Boulder. Not because I introduced one of their shows. But, because it's damned fine independent music that you won't hear on a mainstream radio station.